Acupuncture in Tampa
is a procedure that not many people have experienced. In fact, few people know how it actually works or what it is designed to do. There are actually a variety of procedures that can be referred to as acupuncture. In Tampa, we offer all of these procedures to improve the health and well-being of our patients.
For the most professional acupuncture treatments,
contact us today at 813-882-8373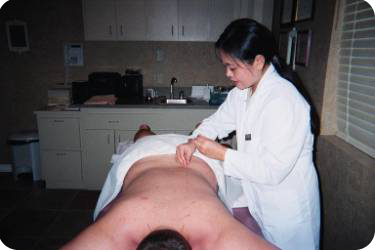 Although acupuncture in Tampa is still considered an "alternative" form of medicine or treatment, it has been practiced in other parts of the world – primarily China – for over 5,000 years. Over the centuries it has been studied and several practitioners have written great volumes about what has been learned. While you are welcome to learn about the history of this practice, the real benefit of acupuncture in Tampa is the positive effect it has on your body and your health.
The basic element of acupuncture is the use of extremely fine needles. These are carefully inserted into the body at specifically chosen points (these locations are called "acupoints"). Every acupoint has its own name and purpose as part of the physiology of the body, and when those points are stimulated, the various functions of the body are regulated and eventually healed.
When we perform acupuncture in Tampa, it can mean that we are practicing one or more out of 6 common procedures.
Electro-Acupuncture – As the name indicates, this combines the insertion of fine needles with tiny electrical impulses. While some may initially think that this sounds potentially painful, in fact the opposite is true; Electro- Acupuncture in Tampa is actually used to reduce pain in certain areas (in addition to other purposes).


Moxibustion – Moxibustion is used to treat a wide variety of conditions, from asthma to arthritis. It involves selecting some acupoints, then applying an ignited cone of Chinese herbs over that area. Moxibustion is as old as acupuncture itself.


Cupping – This is the use of suction on particular acupoints. The suction is produced by using the partial vacuum that is created by a glass jar or similar item. By doing this, blood congests at the chosen point(s), thereby stimulating that area. It's effective for treating soft tissue injuries and other conditions.


Auricular Therapy (Ear Acupuncture) – The word "auricular" just refers to the ear. Ancient Chinese medicine holds that there are many specific points on the ear, each one representing another part of the body. By performing acupuncture at those specific points, we can treat a large number of conditions and ailments in a very specific way.


Acupoint Injection Therapy – This is very similar to "traditional" acupuncture in Tampa. The primary difference is that when the fine needle is inserted, liquid medicine is injected at the acupoints at that time. This particular procedure has only been recognized by the state of Florida within the last decade.


Acupressure – Acupressure is very similar to acupuncture and is based on the same principles. However, in this procedure, pressure is applied instead of inserting a needle. This does not mean it is any less effective, however, and acupressure has been used for centuries to successfully treat many different conditions.
Acupuncture in Tampa may consist of more than one of these procedures; it really depends on your individual situation. When you come in for an initial consultation, we can discuss your needs and answer any questions you may have, and determine what the best course of treatment should be.
Acupuncture is painless, and it is effective -
call us for all the details: 813-882-8373
We offer acupuncture in Tampa, Clearwater, Westchase, Oldsmar, Town 'n' Country, Lutz and Safety Harbor.